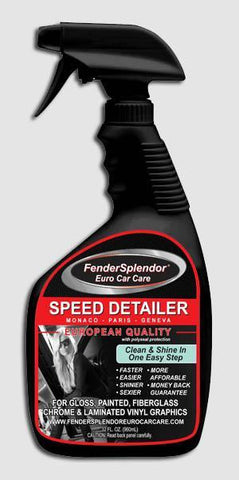 FenderSplendor Speed Detailer
50% OFF SALE!
All Euro Care Care Products 50% OFF While Supplies Last!

FenderSplendor European Quality Automotive Speed Detailer cleans and shines all surfaces SAFELY and QUICKLY without using water. No need for scrubbing, rinsing or drying! This great smelling formula contains no harsh solvents and is fortified with Polyseal Protection to give your vehicle a deep rich shine that protects from UV damage, acid rain and water spotting. Its high lubricating agents encapsulate dirt and grime so that it is safely and easily removed from the surface without scratching. Just spray, wipe and your done! Cleans, shines and protects painted surfaces, chrome, aluminum, fiberglass, plastic, rubber and vinyl graphics and also works great on matte finish paint. Large 32 oz. Bottle.
---
We Also Recommend